Every motorcycle deserves a beautiful seat...
...and that's why we use only the highest quality materials available to hand-craft our custom motorcycle seat cover. We create hand-made replacement seat covers for a wide range of motorcycles and scooters. Check out our inventory for your new replacement seat cover.
1985-2007 Yamaha v-max
With over 30 years of workshop experience...
...you can be assured that your new seat cover will not only fit perfectly, but will look as good, if not better, than the original seat cover. With unparalleled craftsmanship, we have delivered world-class quality products across the globe.
2004-2013 aprilia sr50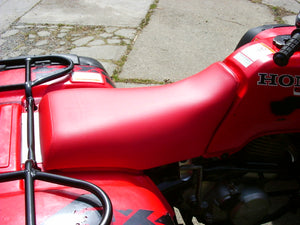 Over 10,000 online seat cover orders fulfilled...
...to over 100 different countries over the past 15 years. Trust in Northwest Classic to bring you the seat you've always wanted.
All prices are listed in US dollars.
1988-2000 Honda Trx 300 four trax